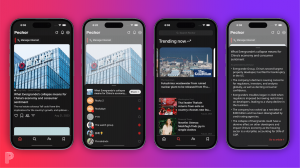 Pechor offers a variety of auxiliary features to enhance the user-experience.
Shen-Ho Lui, the founder of Pechor, hosted a product launch this summer.
Pechor is an online content discovery platform for people to proactively discover articles relevant to their interests and connect with like-minded people.
The resilience of our society is more important now than ever, and credible journalism is crucial to upholding such resilience."
— Shen-Ho Lui
HSINCHU, TAIWAN, August 22, 2023/EINPresswire.com/ — Every day, thousands of great articles are being created. But the explosion of information online has made content discovery analogous to finding a needle in a haystack. The ease-of-access to quality information is an indispensable part of a resilient society, and Pechor is attempting to solve this problem with its newly launched application.
After over a year in development, Pechor is finally opening itself to the public with last month's product launch hosted by Shen-Ho Lui, the founder of Pechor. The application is now available both on App Store and Google Play Store.
What is Pechor?

Pechor is an online content discovery platform for people to proactively discover articles relevant to their interests and connect with like-minded people. Pechor derived its name from the word "petrichor," which "implies our commitment towards the rejuvenation of the journalism industry when interpreted connotatively," according to Mr Lui.
The highlight of Pechor lies in its simplicity and power, afforded by recent advances in NLP—a strand of artificial intelligence that tackles language. Hitherto, content discovery has suffered the trade-off between simplicity and effectiveness. Traditional category-based content aggregation platforms offer satisfactory simplicity but suffer from the narrowness of scope and inflexibility. On the other hand, more advanced content discovery platforms offering better customization capabilities are difficult to operate and often unsuitable for an average consumer.
Pechor takes a drastically different approach to the incumbents. Instead of relying on categorizations or complex filters, Pechor allows its users to express their interest in natural language (or select common ones listed on the user interface). Computers have historically not been very good at understanding language, but recent breakthroughs have made that possible. "We have worked hard on our algorithms, and I think the result of our effort is an extremely powerful platform that is capable of bringing positive changes to the journalism industry," explained Mr Lui. The aim of the company's effort is to eliminate the complexities of content discovery while keeping the users in the driver's seat.
One other important point raised at Pechor's product launch is the company's diametrically different focal point compared to news aggregators. In the past, digital journalism used to be tied closely with news––generally things concerning politics, climate change, or celebrity gossip. However, digital journalism has developed into something much more than just news, there are credible outlets doing close-ups on every imaginable niche, and Pechor is built to respect the multi-modality of our online world. The variety of content on Pechor is plenty, and the natural-language-based customization functionality is designed to be inclusive of all types of interests. "From the latest industry news in machine learning to travel tips for your next trip, Pechor has it all," says its official website.
Besides the core functionalities, plenty of auxiliary features are available to enhance the user experience. For example, the application currently offers AI-generated summaries to speed up the content discovery process, chatrooms (called Pechor Spaces) for users to share and discuss interesting articles, and much more. Despite what's already on the table, Mr Lui declared that this is just the beginning, and many more features will be coming soon.
Why now?

Recent developments in the market have created a condition favourable to Pechor. The rise of social media has nurtured a more passive content consumption habit among consumers. People now expect algorithms to feed them the right content at the right time, and the action of visiting content outlets individually to discover content is deemed too ineffective. Hence, "younger groups everywhere are showing a weaker connection with news brands' own websites and apps than previous cohorts – preferring to access news via side-door routes such as social media, search, or mobile aggregators," according to Nic Newman from Reuter's institute.
This trend alone is not problematic unless the so-called "side-door routes" are effective mediums for consuming digital journalism. However, social media platforms, which used to be a primary channel in which digital journalism is disseminated, have been distancing themselves from journalism in favour of more stimulating content to boost engagement. According to Reuter's institute's 2023 annual report: "Facebook has been distancing itself from news for some time, reducing the percentage of news stories people see in their feed," and journalism plays an even more meagre role in newer social media platforms like Snapchat and TikTok. Alternate content consumption platforms suffer the aforementioned (previous section) limitation in ease of use and effectiveness. "What this leads to," explained Mr Lui, "is a giant void between great content being created every day and the people who wish to consume them. That's where we will fit in."
The rapid development of artificial intelligence could further amplify this problem. Generative algorithms, equipped with the ability to generate and propagate large amounts of authentic-sounding content, can dilute quality information on the internet, making it even more difficult to discover relevant content.
Conclusion

Recent advances in the technology sector are shaking a lot of things up in our world. The resilience of our society is more important now than ever, and credible journalism is crucial to upholding such resilience. It's time for us to decide what types of relationship we wish to have with the media industry, how that relationship is going to impact our society, and what role the tech industry should play in that relationship. Whether it's one that favours the rapid creation of provocative content, or one that encourages the craft of thoughtful, enriching content, it's something worth thinking about.
Pechor is still relatively young, and the road ahead is still long. "We will continue to uphold our vision to create a knowledgeable and empowered global community through our actions," concluded Shen-Ho Lui, "and I hope the work we put in today will contribute to a better tomorrow."
Shen-Ho Lui
TetraSync LLC.
[email protected]
Visit us on social media:
Twitter
LinkedIn


Originally published at https://www.einpresswire.com/article/651259992/newly-launched-content-discovery-platform-pechor-is-now-available-for-everyone