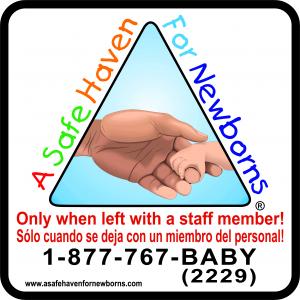 A Safe Haven for Newborns Signage designating hospitals, fire and EMS stations as Safe Haven.
A Safe Haven for Newborns baby sleeps in caring arms
A Safe Haven for Newborns' Partnership with Hospitals and Fire/EMS is Saving Lives
The Safe Haven for Newborns program is saving lives, both the newborn and the mother; 376 so far."
— Nick Silverio, Founder
MIAMI, FL, USA, July 11, 2023/EINPresswire.com/ — According to experienced counselors and medical personnel, the reasons a mother decides to surrender her newborn are many. The tragedy expands across all ages, ethnicity, and socioeconomic; compounded with the feeling of helplessness of not having support and not knowing what resources are available. Leaving the newborn in the arms of a trained hospital professional or fire/EMS personnel will lessen the negative feelings the mother is experiencing, giving her the ability to have closure. "It would be easy to imagine how a myriad of feelings encompassing worry, shame, guilt, sadness, and mourning all merge around the 'what ifs' if the infant was not placed in the arms of another human being," said Dr. Andrea Corn, Licensed Florida Psychologist.
The Gloria M. Silverio Foundation, 501 C3, dba A Safe Haven for Newborns founded in 2001 is dedicated to eliminating the ultimate in infant abuse, abandonment, through education, grassroots community involvement, and direct assistance. They seek to address the escalating crisis by providing non-judgmental help and offering resources to the pregnant women in crisis at no charge to them; all the while protecting their privacy. "The Safe Haven for Newborns program is saving lives, both the newborn and the mother; 376 so far. By accessing our statewide referral database, we provide referrals for counseling, medical related issues, baby necessities, women's shelters, abuse issues, and more," said founder Nick Silverio.
Hospital ERs and manned 24/7 fire/EMS stations display the A Safe Haven for Newborns signage designating them as safe havens for the distressed mother to safely surrender her unharmed newborn, seven days or younger, in complete anonymity and without fear of prosecution. With a direct surrender, the trained personnel could provide the mother immediate medical care or provide information on how she can get counseling services. They could also gather critical healthcare information regarding the newborn. "If a newborn is delivered outside the hospital and the mother does not surrender her infant with a direct face-to-face contact of hospital, EMS, or fire station personnel, this child is at a substantial risk. Newborns must be followed up shortly after birth. The birth of the baby triggers powerful emotions for the mother like depression that need to be addressed," said Joyce Bloshnisky, RN MS. The Foundation provides training at www.asafehavenfornewborns.com for those who may encounter a surrendered newborn at no charge to the health professional.
-30-
ABOUT THE GLORIA M. SILVERIO FOUNDATION
The Gloria M. Silverio Foundation 501 C3 dba A Safe Haven for Newborns, is a nonprofit organization founded in 2001 by Nick Silverio. A Safe Haven for Newborns assists girls/women facing an unexpected pregnancy — saving two lives — in complete anonymity, protecting her right to privacy. For information, visit [email protected].
Nick Silverio
A Safe Haven for Newborns
+1 786-246-1304
[email protected]
Visit us on social media:
Facebook
Twitter
LinkedIn
Instagram
YouTube


Originally published at https://www.einpresswire.com/article/643608341/376-newborns-safely-surrendered-in-the-arms-of-trained-personnel