The House That Ruth Built by Kelly Bennett: Historical facts included are diverse, inclusive, and accurate with information about the segregated leagues of the time included in the sidebar facts.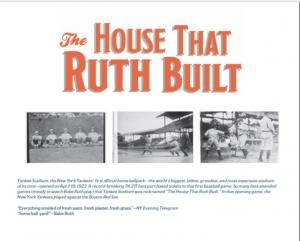 The House That Ruth Built by Kelly Bennett, title page with vintage photos of baseball players
The House that Ruth Built: A Children's Book Celebrating Yankee Stadium, Babe Ruth & Baseball!
I'd give a year of my life if I could hit a home run on opening day of this great new park."
— Babe Ruth prior to the start of the April 18th, 1923 game
WESTHAMPTON BEACH, NY, UNITED STATES, April 18, 2023/EINPresswire.com/ — 100 Years Ago Today, April 18, 1923, Yankee Stadium, the NY Yankees first official home ballpark, the world's biggest, tallest, grandest stadium of the time, hosted its first ever baseball game: NY Yankees against the Boston Red Sox. The House That Ruth Built, a new children's book by award-winning author Kelly Bennett, recreates the excitement of that opening day game—the stadium, the fans, the food, the pigeons…Watch out!, players taking the field, the Umpire's "Play ball!"—and the big question. Prior to the game, legendary slugger Babe Ruth—the Great Bambino, Colossus of Clout, Behemoth of Bust, King of Swing, the Big Bam—said, "I'd give a year of my life if I could hit a home run on opening day of this great new park." Could the Babe come through?
Beautiful, true-to-event illustrations reminiscent of Norman Rockwell, created by Susanna Covelli, bring to life the sights and feel of that first baseball game that very first fateful game that christened The House That Ruth Built. Yankee fans or not, baseball lovers will linger over the sidebars of baseball history, trivia, and vintage photographs. Readers itching to know the outcome of the game will appreciate the end note with game results, Yankee Stadium history, websites and places to visit for more baseball.
The book is dedicated to the author's grandfather, Joe Silva, a semi-pro catcher, who played baseball with Babe Ruth, or watched the Babe play (the story varied), on Barnstorming trips to California. Bennett collaborated with several baseball organizations to get the details of this book just right. Historical facts included are diverse, inclusive, and accurate. The House That Ruth Built is available everywhere books are sold.
Over 85 seasons, Yankee Stadium hosted 6,581 NY Yankees regular season games, 161 postseason games—more than any other stadium in baseball history—and 33 World Series. The Yanks weren't the only Big-League team to call Yankee Stadium "home" either. On July 5, 1930, the Stadium hosted its first baseball game between Negro League teams and over the next 18 years, until 1948, served as home field for teams fielding future Hall of Famers such as Satchel Paige, "Pop" Lloyd, Cool Papa Bell, Josh Gibson, and Jackie Robinson.
The NY Yankees kick off Yankee Stadium's centennial year tonight, April 18th, 7:05 EDT, with a three-game series against the LA Angels, led by Shohei Ohtani. Called the "New Babe Ruth" Ohtani, broke Ruth's two-way record of 10 home runs as a batter and 30 strike-outs as a pitcher—a record that stood for 100 years. And so the story continues . . .
"Kelly hit a grand slam with this wonderfully illustrated book that tells the historic story of Yankee Stadium. The House that Ruth Built is rich with details, fascinating facts, and of course, Babe Ruth!" —Sean Holtz, Baseball Almanac
"Between the fun story, the informative facts, and the amazing illustrations, The House That Ruth Built is a great introduction to baseball, Yankee Stadium, and Babe Ruth for children!" —Cassidy Lent, National Baseball Hall of Fame Museum

####
*Available from bookstores, online booksellers and directly from www(dot)familius(dot)com

About the Author: Kelly Bennett is the author of many award-winning books for children celebrating families, dancing, friends, pets, and all that goes into being a kid! and POETRY LAB, 7-Minute Poetry Prompts for all ages, posted weekly at Kelly's Fishbowl. Her love of writing can be traced back to when she was two-ish and used her mother's black mascara and ruby lipstick to write on the neighbor's car! (And maybe blamed it on her brother…)
About the Publisher:

Familius is a global trade publishing company that publishes books and other content to help families be happy. Founded in 2012, Familius is headquartered in Sanger, California.
Kelly Bennett
Kelly Bennett Author
email us here
Visit us on social media:
Facebook
Twitter
Instagram
YouTube


Originally published at https://www.einpresswire.com/article/628123368/100-years-ago-ruth-s-house-opened-for-business-children-s-book-celebrates-yankee-stadium-babe-ruth-baseball