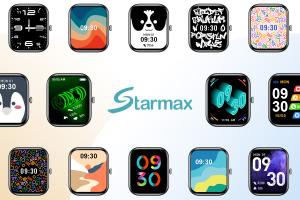 Starmax, a leading smartwatch manufacturer, unveils over 40 new watch face designs in a fresh update, offering users greater personalization, available now.
SHENZHEN, CHINA, June 7, 2023/EINPresswire.com/ — Starmax Technology, a professional smart watch manufacturer with 8 years of R&D, design, and manufacturing experience, has released the latest Watch Face Gallery update.
Starmax Technology, a leading smartwatch supplier based in Shenzhen, excels in delivering products that seamlessly blend style with functionality. In addition to providing high-quality products, Starmax now offers an expanded range of watch face options, helping users to personalize their smartwatch to align with their unique styles, moods, and preferences.
Starmax's latest update introduces over 40 captivating and innovative watch face designs, making it easy for users to discover the ideal match for their unique aesthetic. From classic analog clocks to modern digital displays, this update offers a diverse array of options to suit various preferences. Moreover, Starmax smartwatches enable users to incorporate their chosen images into the watch faces, offering an additional layer of personalization.
The recent update transforms Starmax's smartwatch into a versatile fashion accessory that effortlessly complements any outfit, occasion, or mood. Whether the user is drawn to sleek minimalism or bold, vibrant aesthetics, the Starmax Watch Face Gallery presents an impressive selection.
"Our team at Starmax is continually striving to enhance the user experience for our customers. Introducing these new watch faces exemplifies our commitment to offering our users top-tier experiences," stated Jackson Y, the Design Director of Starmax.
The new watch faces are currently available for download exclusively through the Runmefit App, where users can freely browse and select from these latest designs.

* Certain watch faces are for specific products only, and some may require payment.
Starmax also offers tailored watch face services for personalized and branded designs. For more information about the latest watch face update or customized OEM smartwatch, please reach out to the Starmax Team.
About Starmax Technology

Founded in 2015, Starmax Technology is a leading smartwatch manufacturer with over 8 years of experience in R&D, design, and manufacturing. Based in Shenzhen, China, Starmax Technology has over 450 staff dedicated to creating innovative products, including hardware engineers, software programmers, application developers, and UI designers. The company is ISO9001 certified and has passed the BSCI social responsibility audit. Its products are sold in over 50 countries worldwide, and Starmax Technology provides efficient logistics and fast delivery to ensure customer satisfaction.
For more information about Starmax Technology and its smartwatch products, please visit istarmax.com.
Cynthia L
Shenzhen Starmax Technology Co.,Ltd
[email protected]
Visit us on social media:
Facebook
LinkedIn
YouTube


Originally published at https://www.einpresswire.com/article/638074175/starmax-releases-over-40-new-watch-faces-in-latest-gallery-update