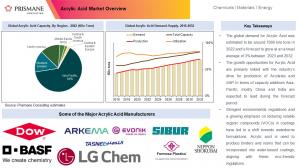 PUNE, MAHARASHTRA, INDIA, August 30, 2023/EINPresswire.com/ — Prismane Consulting is thrilled to introduce the fourth iteration of its report on the "Global Acrylic Acid Market." This all-encompassing study delves deep into the worldwide Acrylic Acid market, with particular emphasis on key countries and their varying demands across distinct applications. The study encompasses a range of acrylic acid derivatives, including Commodity Acrylates (Methyl Acrylate, Ethyl Acrylate, Butyl Acrylate, 2-Ethylhexyl Acrylate, and others) as well as Poly Acrylic Acid (Superabsorbent polymers, Water treatment, and more).
Download sample report from here:

https://prismaneconsulting.com/report_request_sample?_token=NHg9mqezsAODGOz47sSd8wjrCb8u3yWdlLokYOcj&report_id=33
"We're excited to present the fourth edition of our 'Global Acrylic Acid Market' report," said Roshan Mulchandani, Senior Consultant at Prismane Consulting. "The Acrylic Acid Market Study report underscores our dedication to delivering empowering insights, aiding our clients and partners in effectively understanding the complex Acrylic Acid market landscape. With extensive engagement in petrochemicals and specialty chemicals over time, we've refined our market models and approaches. This effort has also culminated in the launch of an innovative subscription-based offering and we call it the 'Global Acrylic Acid & Esters Price Competitiveness quarterly update report'. Through this model, our clients will enjoy quarterly updates encompassing price fluctuations, price margins, trade dynamics, and industry insights."
The "Global Acrylic Acid Market" report is now available for access on Prismane Consulting's official website at:

https://prismaneconsulting.com/checkout?_token=Mztgbaftal6cG6RpwpEAITgwWgLVEaVSIeZbZu5o&report_id=33&single_user_license=Single
Acrylic Acid is a transparent, colorless liquid renowned for its distinctive pungent smell and chemical attributes, encompassing elevated corrosiveness, flammability, and boiling point characteristics. In its historical manufacturing processes, Acrylic Acid was generated through the hydrolysis of acrylonitrile. Nevertheless, this technique underwent substantial discontinuation due to the generation of ammonium by-products, complicating the disposal process. Alternative production methods involved vapor-phase oxidation of propylene, carbonylation of acetylene (referred to as the Reppe Process), or derivation from ethylene oxide.
The global production capacity for acrylic acid surpassed 8000 kilo tons in 2016 and is projected to further cross 9000 kilo tons by 2022 with a notable portion of this capacity expansion observed in China. During the period spanning 2016 to 2021, an annual average increase of approximately 200 kilo tons in acrylic acid capacity was recorded on a global scale. The Asia-Pacific region singularly contributed to more than 64% of the global acrylic acid capacity, wherein China's share was around 63%. This region is anticipated to maintain its preeminence as the foremost global acrylic acid producer in the foreseeable future.

BASF takes the lead as the principal acrylic acid producer, commanding a market share of 15%. Their manufacturing facilities extend across the United States, Brazil, Germany, Belgium, Malaysia, and China. Subsequently, Nippon Shokubai emerges as the second-largest acrylic acid producer, followed closely by LG Chemicals (8%) and Dow Chemicals (8%). Numerous manufacturers within the acrylic acid domain have integrated facilities that concurrently produce diverse acrylic acid derivatives."
Topics Covered in the Acrylic Acid Market Study

• Demand-Supply Analysis

• Demand Composition, by Derivative and Application

• Capacity & Production

• Trade (Import, Export and Net Export)

• Sales & Revenue

• Pricing Analysis

• Market Dynamics

• Target Markets

• Business Opportunity Assessment
To subscribe the Global Acrylic Acid & Esters Price Competitiveness quarterly update report reach out to t[email protected] or [email protected]
Tejas Shah
Prismane Consulting Private Limited
[email protected]
Originally published at https://www.einpresswire.com/article/652783111/prismane-consulting-reveals-newest-global-acrylic-acid-market-report-projected-surge-to-usd-23-billion-by-2023