OhmniClean Autonomous UV-C Disinfection Robot by OhmniLabs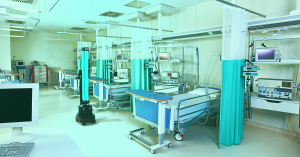 OhmniClean Autonomous UV-C Disinfection Robot in a hospital setting
I was blown away by the disinfection efficiency that was provided by it and how simple it was to operate the UV robots because it's a step-by-step protocol that you follow on the screen."
— Tiyarra Wauneka, Environmental Services Supervisor, Sage Memorial Hospital
DALLAS , TEXAS, UNITED STATES, July 27, 2023/EINPresswire.com/ — OhmniLabs, a leading innovator in UV disinfection, announced today that it will exhibit at AHE Exchange Conference & Solution Center, taking place from July 31 to August 2, 2023, in Dallas. The company will showcase OhmniClean, their autonomous UV-C disinfection robot, at this premier event for hospital EVS leaders and professionals.
The AHE Exchange Conference is a pivotal gathering that enables environmental services professionals to explore cutting-edge solutions and emerging best practices, particularly in the wake of the heightened importance of clean environments in healthcare facilities. Key topics at the conference include disinfection, staffing, employee retention, and sustainability.
"AHE Exchange is a fantastic opportunity to connect with EVS leaders and professionals and demonstrate how OhmniClean can revolutionize the way healthcare facilities approach disinfection," states Dr. Thuc Vu, CEO of OhmniLabs. "We are committed to providing innovative solutions that enhance patient safety and contribute to the overall well-being of healthcare environments."
OhmniLabs' OhmniClean is well-aligned with the conference's objectives. This autonomous UV-C light disinfection robot elevates UV disinfection by quickly and effectively eliminating 99.99% of pathogens, including bacteria, viruses, and fungi. With its advanced autonomous navigation features, intuitive user interface, and extensively proven performance, the robot can effectively operate in diverse room environments, ranging from spacious areas to more confined spaces.
Tiyarra Wauneka, Environmental Services Supervisor at Sage Memorial Hospital, is impressed by the simplicity and effectiveness of the UV robots. "I was blown away by the disinfection efficiency that was provided by it and how simple it was to operate the UV robots because it's a step-by-step protocol that you follow on the screen. And it was, it was easy."
OhmniClean's autonomous operation sets a new standard in disinfection by outperforming legacy systems. It ensures consistent and efficacious disinfection with no missed spots. It is up to 60% less expensive than legacy UV systems and reduces labor hours, providing an answer to staffing shortages. Ultra-lightweight and compact, OhmniClean facilitates easy transportation and faster turnover times than manual UV emitters.
One of the standout features of OhmniClean is the ability to eliminate shadowing. Unlike stationary UV emitters, achieving total-room disinfection does not require multiple, time-consuming instances of manual repositioning to reach and disinfect shadowed areas of a room. Within one single disinfection cycle, OhmniClean can disinfect the entire room and even reach adjacent rooms connected to patient rooms – such as restrooms.
Attendees of the AHE Exchange Conference can experience first-hand the power, efficiency, and simplicity of OhmniClean at Booth 421. Representatives from both OhmniLabs and RC Quartermaster, a SDVOSB partner, will be on hand to show how OhmniClean easily integrates into disinfection protocols to elevate environmental services within any healthcare organization.
About OhmniLabs

OhmniLabs is a healthcare automation company focused on providing innovative robotic solutions. Since our founding in 2015, we've delivered thousands of robots that have improved the lives of people in more than 49 countries worldwide. Our USA-based manufacturing facility allows us to design, engineer, and build advanced robots for our customers with unrivaled usability and reliability.
Laura Guy
OhmniLabs
+1 650-420-6468
email us here
Shadowing: A Quick Education
Originally published at https://www.einpresswire.com/article/646311696/ohmniclean-the-autonomous-uv-c-disinfection-robot-preferred-by-evs-leaders-set-to-make-a-splash-at-ahe-exchange