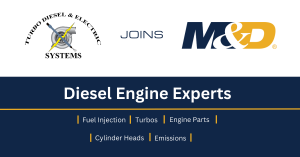 The acquisition adds 6 locations in new territory.
Turbo Diesel and Electric is the right match for M&D due to their 51-year history of exceptional customer service and great team members."
— M&D CEO Grant Garrett
HUMBLE, TEXAS, UNITED STATES, April 19, 2023/EINPresswire.com/ — M&D, the leader in aftermarket diesel engine parts and remanufacturing, announces its acquisition of Turbo Diesel & Electrical Systems Inc.
Turbo Diesel & Electric has represented the aftermarket for a half-century with fuel system and turbo remanufacturing and distribution services. The acquisition extends M&D's footprint to 23 branches, marking their first locations in Georgia, Florida, Alabama, and South Carolina.
M&D CEO Grant Garrett realizes tremendous opportunities for retail expansion and increasing remanufacturing capabilities.
"Turbo Diesel and Electric is the right match for M&D due to their 51-year history of exceptional customer service and great team members. This partnership aligns strongly with M&D's 80-year history and allows us to expand into the Southeastern market to better serve our customers. We are looking forward to our continued partnership and growth with Al, James, Cheryl, and TDE team members," Garrett said.
Founded in 1972 by James Roberts Sr., Turbo Diesel has been a family-run business for 2 generations. Roberts Sr. passed down the business to his children, Al Roberts, James Roberts Jr., and Cheryl Leipold.
A third generation, James "Lewis" Roberts III and Jeremiah Leipold also grew professionally within the company. The family grew the business from one location to six locations.
The entire family looks forward to joining the M&D family.
"The historical relationship with M&D, and the synergies between our two companies, will give us the ability to bring more products and services to our customers," James Roberts Jr. said. "We'll be able to offer more parts, including a wider selection of cylinder heads, filtration, and internal engine parts."
Al agreed, saying, "This will allow us to focus more on our customers and provide them the best opportunities within the industry."
Opportunities for the growing organization are plentiful. M&D gains new territory coverage and six branch locations. Turbo Diesel also operates a highly renowned Service Dealer (SD) network in one of the hottest markets in the United States.
Turbo Diesel's customers will have access to new products for high-horsepower, marine, and industrial off-road applications. They can continue expecting top-notch quality since the organizations share many premium partnerships, including Bosch, Stanadyne, Denso, Garrett, BorgWarner, Holset, Cummins, and many more.
"M&D will continue to partner with great companies in the diesel engine aftermarket as we continue our national expansion and branch footprint through acquisition," Garrett said.
"Considering M&D is one of few companies acquiring businesses that offer employee profit sharing plans, we are committed to being a first-choice employer and 'Win Together' with all team members. We're excited to offer the profit-sharing benefit to all Turbo Diesel & Electric team members," he added.
M&D is eager to reach new heights with Turbo Diesel and thanks the Roberts and Leipold families for their support and partnership.
About M&D
M&D is a longstanding aftermarket distributor of mission-critical diesel engine parts and
components. M&D's diverse product portfolio includes new and remanufactured fuel injection, turbochargers, engine parts and filtration products from the world's top-tier manufacturers and aftermarket suppliers. M&D also provides industry-leading internal rebuilding capabilities and a wide range of services, like part matching, diagnostics, repair and technical assistance. For more information, visit https://www.mddistributorsstore.com/.
Rob Lange
M&D
email us here


Originally published at https://www.einpresswire.com/article/628872181/m-d-acquires-turbo-diesel-electrical-systems-inc