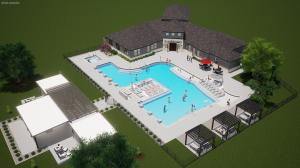 Selah Pools & Custom Outdoor Environments, a leading developer of luxury swimming pools and spa services, has unveiled its latest project at The Dowlin, a multi-family development in Princeton, TX, which is estimated to be one of the largest private pools in North Texas
The approximately 100,000-gallon amenity will be a highlight of the much-anticipated residential project, which is being developed by JMD Acquisitions
Approximately 100,000-gallon amenity will be a highlight of the much-anticipated residential project, The Dowlin in Princeton, TX, developed by JMD Acquisitions
DALLAS, TEXAS, UNITED STATE OF AMERICA, July 27, 2023/EINPresswire.com/ — Selah Pools & Custom Outdoor Environments, a leading developer of luxury swimming pools and spa services in Texas and Florida, has unveiled a first look at its latest project, estimated to be one of the largest private pools in North Texas and the future centerpiece of one of the area's most highly anticipated multi-family enclaves, The Dowlin, located in Princeton, Texas.
Encompassing nearly 100,000 gallons of water and a multitude of covered terraces, seating areas, and plush spaces for recreation and relaxation, the state-of-the-art structure is a masterstroke in design and encapsulates the holistic wellness focus of the signature residential community that surrounds it, which is the brainchild of visionary, Irving, Texas-based developer, JMD Acquisitions. The Dowlin's name is a nod to Prince Dowlin, a beloved landowner and local resident from the 1800's for whom the town of Princeton was eventually named.
Construction of the project's pool and outdoor amenity areas, which began earlier this quarter, is already more than halfway complete, a testament to the pacesetting excellence and meticulous attention to detail that Selah is renowned for.
"It is a true honor to be bringing the vision of JMD Acquisitions to fruition and crafting such a spectacular amenity for year-round enjoyment," said Tom Morris, Selah's Executive Vice President for Commercial Business Development. "We are doubly thrilled with the lightning-fast progress that's been made by our elite team of builders, who continue to demonstrate unwavering dedication."
The construction team's efforts and Old-World-style craftsmanship have pushed the envelope, resulting in a truly one-of-a-kind design. The jaw-dropping space, set to be an area showpiece, will be a testament to the boundless innovation and creativity that JMD Acquisitions has enabled Selah to develop.
"We are thrilled at the tremendous progress being made by Selah Pools & Custom Outdoor Environments and what's ahead for our transformative project, which will be rooted in everyday health and wellness," said Dr. Meetu Bhatnagar, President of JMD Acquisitions. "Their much-lauded approach to every stage of this project — from concept to completion — has ensured that our dream of creating a highly amenitized outdoor space that furthers our residents' access to respite and recreation will be a reality. As a whole, The Dowlin will be unmatched in its scope of offerings — a substantial value-add for our residents' day-to-day enjoyment. We want this community to be a treasured home-site, one filled with comforts and conveniences."
Over the course of the last several weeks, Selah has achieved numerous, ahead-of-schedule key benchmarks, including the installation of more than 1,000 feet of electrical lines, which will ensure a seamless integration of cutting-edge technology throughout the development. Selah has additionally implemented an intricate network of 3,500 linear feet of plumbing lines, painstakingly designed to ensure optimal functionality and convenience. Excavated with precision, the project's structural integrity is fortified by 30,000 feet of steel reinforcement, ensuring the utmost in safety and longevity for the outdoor oasis. These robust measures reflect Selah's unmatched devotion to the quality of its projects and the peace of mind of its clients.
The uniquely fashioned pool, much of which has been hand-shaped, will be complemented by distinct dry-stone steps on an oversized tanning ledge, which will lead to a connected water feature with LED lighting and a detached heated spa. There will additionally be a trio of shaded pool cabanas and a 3,000-square-foot outdoor great room with a seven-foot linear fireplace, two outdoor kitchens, and an enormous, custom-engineered structure with a modern aluminum roof.
By the numbers, the pool and outdoor amenities will comprise:
Approximately 100,000 gallons of water

17,000 square feet of custom outdoor spaces

822 tons of concrete

30,000 linear feet of rebar

6,000 square feet of plaster

3,500 linear feet of plumbing

1,000 feet of electrical lines

1,000 feet of tile

An estimated 500 hours of design and development

An estimated 700 hours of engineering
"Once complete, this innovative project will span an impressive 17,000 square feet, providing residents with an immersive lifestyle oasis," added Morris. "Our dedication to being a trailblazer in design and construction will ensure the creation of an unparalleled haven that beautifully blends artistry with top-of-the-line functionality and the joys of outdoor living."
Video and renderings of The Dowlin pool and outdoor amenity area: https://www.dropbox.com/scl/fi/2q2j8oavz9alysywrboft/Rendering-Video_-The-Dowlin-in-Princeton-TX.mp4?rlkey=grjyapt6jce77eld2fw13iwq1&dl=0
# # #
About Selah Pools & Custom Outdoor Environments

Selah Pools & Custom Outdoor Environments is a highly respected design firm and general contractor that specializes in visionary architecture. With a commitment to excellence and a passion for innovation, Selah consistently delivers extraordinary outdoor spaces that inspire and elevate the human experience. The company's proprietary Ai technology furthermore allows Selah to speed up the design process exponentially while its construction team delivers first-in-class service and results. By integrating creativity, ingenuity, and cutting-edge technology, Selah Pools ensures that each project surpasses expectations and embodies its clients' dreams. For additional information, visit www.SelahPools.com.
About JMD Acquisitions

JMD Acquisitions specializes in real estate acquisitions, asset management, and global business management. Founded by industry leaders with over two decades of experience in global business management, business solutions, and real estate, JMD takes pride in being a trusted partner of investors and owners to help them achieve their goal of accelerated growth and prosperity. JMD's strength and success lies in the company's passion and determination to always exceed the expectations of stakeholders – including attention to detail and excellent services – thereby building everlasting relationships. JMD Acquisitions' core philosophy of focusing on honesty, transparency, quality, and relationships is the root of the company's success. Visit www.jmdacquisitions.com.

Caroline Underwood Burman
Kreps PR & Marketing
email us here
Originally published at https://www.einpresswire.com/article/646737897/first-look-selah-pools-unveils-one-of-the-largest-pool-projects-in-north-texas