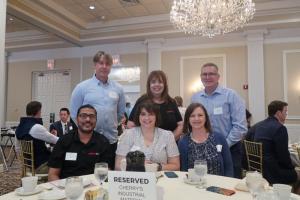 The statewide competition was sponsored by Workforce Research Group and promoted by the Daily Herald newspaper
We are honored to have been chosen as one of the best places to work in the state. We are grateful for the incredible people who make up the Cherry's team"
— John Costello, President and CEO
ROSELLE, ILLINOIS, USA, May 19, 2023/EINPresswire.com/ — Cherry's Industrial Equipment, an engineering and manufacturing company dedicated to solving workflow and safety issues in the workplace, has been named to the 2023 Best Places to Work in Illinois list. The awards program, which began in 2006, consists of a survey and analysis managed by Workforce Research Group and conducted by media partner The Daily Herald.
This was the first year that Cherry's Industrial Equipment has entered this competition, and everyone at the 40-year old company was delighted at being selected.
This statewide survey and awards program was created to identify, recognize and honor the best places of employment in Illinois, which benefits the state's economy, workforce and businesses. The 2023 list is comprised of companies in the small employer category (15-99 U.S. employees), medium employer (100-499 U.S. employees), and large employer (500 or more U.S. employees). Cherry's Industrial Equipment ranked 21st on the Small Business List.
Companies from across the state participated in a two-part process to determine the finalists for Best Places to Work in Illinois. The first part consisted of evaluating each nominated company's workplace policies, practices, and demographics. The second part consisted of an employee survey to measure the employee experience. The combined scores determined the top companies and the final rankings.
Cherry's Industrial Equipment was honored at the Best Places to Work in Illinois awards luncheon held on May 11, coordinated by The Daily Herald Suburban Business and held at Abbington Banquets, Glen Ellyn, IL. The final rankings were announced at the event and posted on the Daily Herald Suburban Business website . A special commemorative section honoring the winning companies will appear in a June 25 edition of the Daily Herald on June 25.
John Costello, Chief Executive Officer at Cherry's Industrial Equipment, said, "We are honored to have been chosen as one of the best places to work in the state. We are grateful for the incredible people who make up the Cherry's team and for their hard work in completing these surveys. We are all especially proud of the culture that we have built together – where we live our core values each day and strive for the betterment of each individual, as well as the company. We thank the Daily Herald for this recognition and congratulate the other companies who were also selected for this list."
Cherry's Industrial Equipment was also honored recently as a 2022 All-Star Company by The Great Game of Business®, which recognized the company's commitment to create a winning workplace culture and deliver industry-leading financial performance.
About Cherry's Industrial Equipment
Cherry's Industrial Equipment Corp. is an engineering company that solves workflow problems and safety issues, and creates ergonomic solutions across a wide range of industries. Founded in 1982, the company initially focused on marketing the pallet inverter, a new piece of material-handling equipment developed to turn entire pallet loads over to safely recover and replace broken bags of fertilizer, sugar, and other dry products. Soon thereafter, this "niche" product became a must-have for all material handlers. As a result, the Cherry's-brand inverters now touch hundreds of products daily, from Campbell's soup to lottery tickets, from ATMs to cosmetics. The company's product lineup, all #madeinamerica , has expanded to include Pallet inverters, Plastic pallets, 90° tippers, Roller skids, Pallet dispensers, Lifting tables, and Pallet washers. Industries served include automotive, food, agriculture, defense, pharmaceutical, cosmetics, printing, distribution, beverage, and more. Headquartered in Roselle, IL, Cherry's Industrial Equipment serves the need of businesses throughout the United States and beyond. John Costello serves as the company's Chief Executive Officer. For additional information about Cherry's Industrial Equipment, please contact Michelle Clewer, Director of Marketing by email [email protected] or call 847-354-6140.
Michelle Clewer
+1 847-354-6140
email us here
Cherry's Industrial Equipment
Visit us on social media:
Facebook
LinkedIn


Originally published at https://www.einpresswire.com/article/634727965/cherry-s-industrial-equipment-named-to-2023-best-places-to-work-in-illinois-list