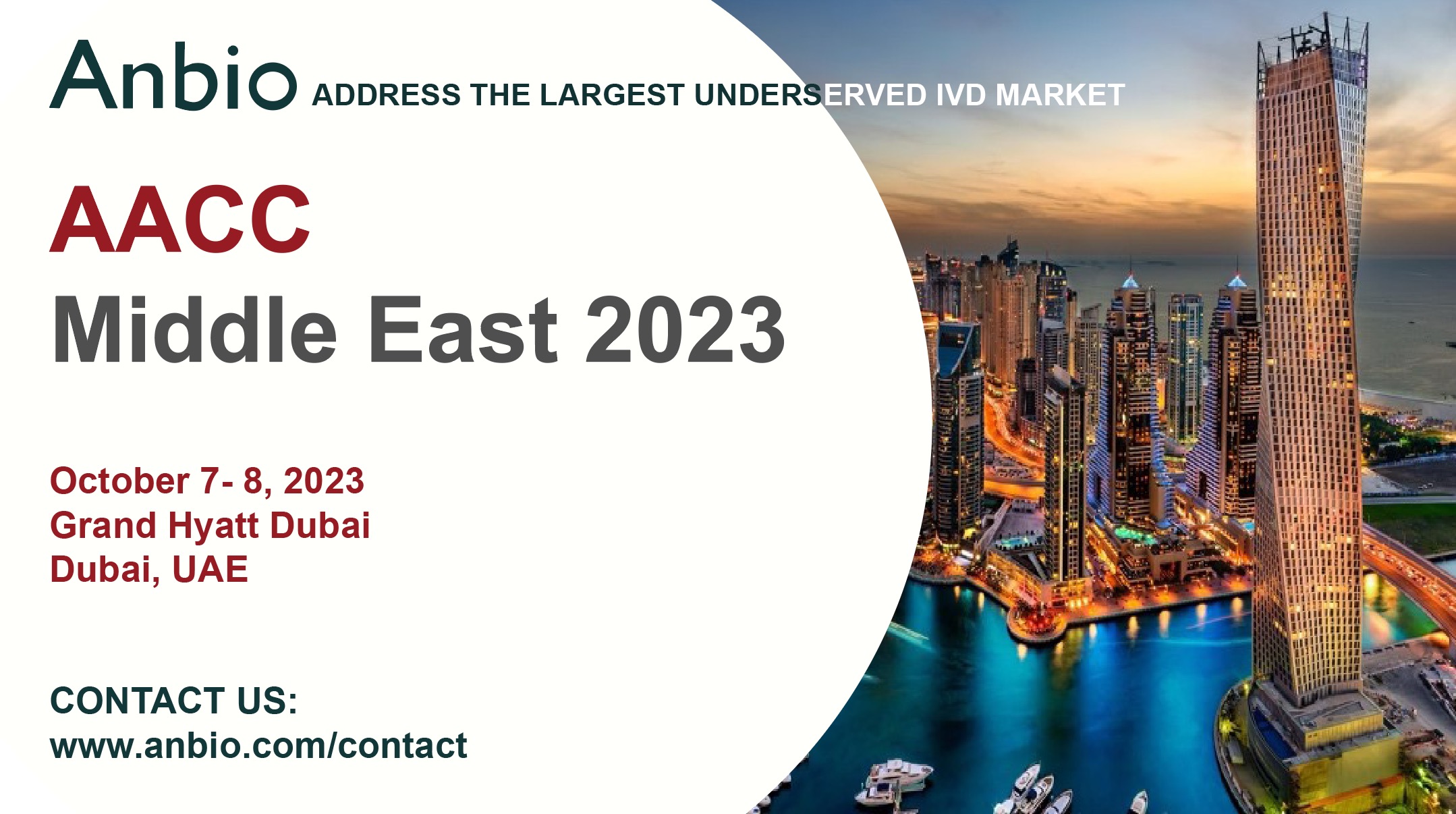 FRANKFURT, HESSEN, GERMANY, September 28, 2023 /EINPresswire.com/ — Anbio Biotechnology ("Anbio"), a leading global diagnostic device and assay company, announced its participation in the AACC Middle East 2023 in Dubai on October 7-8, 2023. Middle East is a significant region for healthcare and medical laboratories and Anbio is looking forward to establishing more business cooperation with local partners and providing high-quality IVD products in the Middle East through this event.
Anbio Biotechnology is a medical device company emphasizing in vitro diagnostics. Our mission is to change the global diagnostics market by individualizing and decentralizing the current diagnostic solutions for rapid diagnosis to improve patient prognosis. Anbio provides rapid, accessible, and affordable diagnostic solutions globally at the forefront of science and offers innovative laboratory, wellness, at-home, and point-of-care (POCT) in vitro diagnostic (IVD) solutions.
About AACC Middle East
AACC Middle East is a two-day conference held in partnership with Life Dx that brings the latest in laboratory medicine to the Middle East region and showcases diagnostic innovations at a dynamic exposition. The conference covers a range of timely topics from infectious diseases to big data to prenatal emerging technology, as well as core laboratory areas in sample transport, lab management, and quality assurance.
About Anbio Biotechnology
Anbio Biotechnology is devoted to making contributions to human health and has never stopped our goal to innovate in life sciences. Driven by continuous technical development and integration, resulting from close cooperation with prestigious institutes across the world. Anbio always strives to provide total solutions in the clinical diagnosis field, by offering extensive diagnostic products including laboratory and point-of-care products.
For more information, please visit: https://www.anbio.com
Krystal
Anbio Biotechnology
email us here
Visit us on social media:
LinkedIn
YouTube
Originally published at https://www.einpresswire.com/article/657945123/anbio-biotechnology-to-present-at-aacc-middle-east-2023-on-october-7th-2023