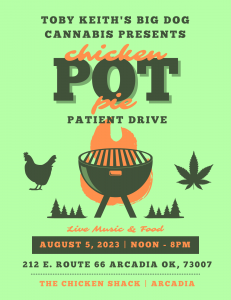 Toby Keith Patient Drive-The Chicken Pot Pie Event -August 5th, 2023 in conjunction with Big Dog Cannabis Company Hosted by Chicken Shack Starts at Noon
"We provide a welcoming space for folks exploring the potential benefits of medical cannabis. By bringing together experts, vendors, and patients, we can create a healthy learning environment."
— Jeff Burnham Big Dog Cannabis Company
ARCADIA, OKLAHOMA, UNITED STATES, July 28, 2023/EINPresswire.com/ — Arcadia, Oklahoma – Toby Keith, the renowned country music artist, is delighted to announce the inaugural Chicken Pot Pie Patient Drive, a one-of-a-kind event aimed at supporting cannabis patients seeking to obtain their medical marijuana cards.
The event, scheduled to take place on August 5th, 2023, will be hosted at the renowned Chicken Shack, a perfect setting for this unique gathering of edgy education, vendors, and community support. The Chicken Pot Pie Patient Drive is an initiative designed to empower and educate individuals interested in exploring the benefits of medical cannabis.
Toby Keith, an advocate for responsible cannabis use, understands the potential of this natural remedy for various ailments and strives to provide a platform for patients to obtain the necessary information and resources to navigate the medical marijuana certification process.
At the Chicken Pot Pie Patient Drive, attendees will have the opportunity to engage with knowledgeable professionals from the medical and cannabis industries. A series of comprehensive educational sessions will cover topics such as the therapeutic uses of cannabis, the legal framework surrounding medical marijuana, and the application process for obtaining a medical marijuana card.
These sessions will be facilitated by experts in the field, ensuring accurate and up-to-date information is shared. In addition to the educational aspect, the event will feature a diverse range of vendors who specialize in cannabis-related products and services.
Visitors will have the chance to explore an array of innovative products, including CBD-infused goods, cannabis accessories, and alternative wellness solutions.
Toby Keith's Chicken Pot Pie Patient Drive aims to foster an environment of support, allowing attendees to connect with vendors who share a passion for enhancing the well-being of cannabis patients. "The Chicken Pot Pie Patient Drive is a celebration of education, empowerment, and community," states Jeff Burnham, the Manager of Big Dog Cannabis. ""We provide a welcoming space for folks exploring the potential benefits of medical cannabis. By bringing together experts, vendors, and patients, we can create a healthy learning environment."
We are absolutely serving Chicken Pot Pie for this event and are supportive of the Toby Keith's Chicken Pot Pie event and the objective of responsible and legal Medical Cannabis education.
The Chicken Pot Pie Patient Drive will take place on August 5th, 2023, at the Chicken Shack in Arcadia, Oklahoma. The event is open to individuals aged 21 and above. Tickets will be available for purchase on the Big Dog Cannabis Co website: www.BigDogCannabis.co. Early registration is encouraged as space is limited. For more information about Toby Keith's Chicken Pot Pie Patient Drive, including sponsorship opportunities, vendor applications, and ticket sales, please visit BigDogCannabis.co or contact at 405-.834-3850 / Email at: [email protected]
About Toby Keith: Toby Keith is a Grammy Award-winning country music artist known for his chart-topping hits and dynamic stage presence. In addition to his musical career, Toby Keith is an advocate for responsible cannabis use and believes in the potential benefits of medical marijuana for patients in need. ###
Gray Gochenour
Chicken Shack
+1 405-277-5020
email us here
Visit us on social media:
Facebook
Instagram


Originally published at https://www.einpresswire.com/article/646784457/toby-keith-s-chicken-pot-pie-patient-drive-a-groundbreaking-event-for-cannabis-patients-and-education-august-5th-2023