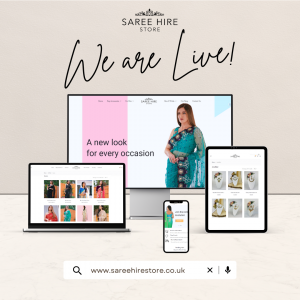 Saree Hire Store launches its saree rental business in response to the increasing demand of hiring high-end sarees at affordable prices.
LONDON, UK, April 14, 2023/EINPresswire.com/ — Saree Hire Store focuses on quality and affordability, the sarees are available for hire at very reasonable prices, making them accessible to everyone. They understand that purchasing a saree for a one-time event can be expensive, hence why they have introduced a range of options that are perfect for those looking to rent a saree in the UK. The collection includes various styles – from classic to contemporary, embroidery to printed, and everything in between.
Co-founders Hitesh and Varuna said "The idea behind Saree Hire Store is simple: instead of buying a saree, why not rent it? Not only does this save money and reduce waste, but it also allows you to wear a different saree for your special occasions."
A key driver behind the business was to focus on sustainability and reduce waste. There is a strong recognition that the cost to purchase a new saree can set consumers back a minimum of a couple hundreds of pounds for something that is typically worn less than 3-4 times. Also, studies by a leading rental platform found that clothes rental has a smaller environmental footprint compared to purchasing.
About Saree Hire Store

The Saree Hire Store online platform offers its customers stylish Saree's with an affordable rental price tag – a new look for every occasion. By disrupting the traditional model of buying sarees, they stock a luxury collection of sarees, blouses and jewellery.
Founder
Saree Hire Store
[email protected]
Visit us on social media:
Facebook
Twitter
Instagram
TikTok


Originally published at https://www.einpresswire.com/article/627528235/saree-hire-store-announces-the-launch-of-its-saree-hire-online-platform