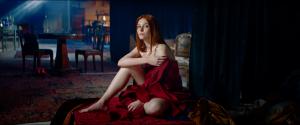 Brazilian Director Halder Gomes/ Credit: Duda Abreu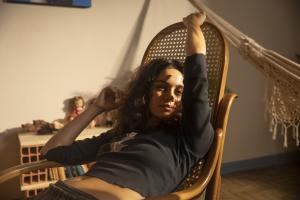 "My Name is Gal" directed by Dandara Ferreira & Lô Politi / Credit: Stella Carvalho
Festival will open with Glaz and ATC Entertainment's "Monet Red", by Halder Gomes, and close with "My name is Gal", by Dandara Ferreira and Lô Politi
We kick off our 16th edition of LABRFF with an important mission: to continue to work very hard to promote the Brazilian cinema for the Latino community in the entertainment industry."
— Meire Fernandes, Co-Founder of LABRFF
LOS ANGELES, CA, USA, September 8, 2023/EINPresswire.com/ — The Los Angeles Brazilian Film Festival (LABRFF), which will take place October 23rd to 26th, 2023, at the new The Culver Theater in Culver City, CA has announced today its full lineup. This year's edition will open with the U.S. premiere of Halder Gome's feature film "Monet Red" starring Maria Fernanda Cândido, a coproduction between Brazil and Portugal, and close with the U.S. premiere "My Name is Gal", directed by Dandara Ferreira and Lô Politi, starring Sophie Charlotte as Brazilian Singer Gal Costa. The full lineup includes feature films, short films, animation, and networking sessions. Tickets are now available to purchase through the festival's labrff.com "We kick off our 16th edition of LABRFF with an important mission: to continue to work very hard to promote the Brazilian cinema for the Latino community in the entertainment industry," said Meire Fernandes, Co-Founder of LABRFF.
"Monet Red", tells the story of Johannes Van Almeida (Chico Diaz), a painter of women who are not accepted in the market; obsolete. With his vision deteriorating and on the verge of a nervous breakdown, he finds in Florence Lizz (Samantha Müller) – a famous actress in crisis and insecure in preparation for her most challenging film – the inspiration to make his masterpiece. Antoinette Lefèvre (Maria Fernanda Cândido) is an influential art dealer/connoisseur who sniffs out the value of works of art when stories of inspiration become an obsession among painters and models. The film will open the festival on Monday, October 23rd at the Culver Theater in Culver City, followed by a cocktail party.
"My Name is Gal" by directors Dandara Ferreira and Lô Politi follows behind the scenes of the brief but effervescent period of Tropicália, the main counterculture movement in Brazil, responsible for the most significant musical and behavioral shifts the country has ever lived through. Gal Costa was the main voice behind Tropicália, but in order to achieve that position, she had to rid herself of a natural shyness that almost kept her from following her dreams. With her natural stage presence, attitude, body language, and amazing voice, Gal Costa would not only revolutionize the Brazilian music scene but become an icon for an entire generation, especially women. Our film portrays the hardships faced, at a very young age, by Gal and fellow artists Caetano Veloso, Gilberto Gil, Maria Bethania, Jards Macalé, Tom Zé, and Wally Salomão, as they spearheaded a vanguardist cultural movement against the conservative values and violence imposed by Brazil's military dictatorship. The film will close the festival on Thursday, October 26th at the Culver Theater in Culver City.
The selected list of LABRFF this year features 16 films directed by female filmmakers, totaling 40% of the festival. The aesthetic and narrative diversity of Brazil is also present. 30% of the selected films were directed by filmmakers from the North and Northeast regions. International films are also included in the list, with 4 works by North American directors.
FEATURES

The program is composed of 22 feature films and 22 shorts from Brazil. Highlights include films that touch on subjects of self-discovery, forgiveness, and freedom, such as "Our Dream – The Story of Claudinho and Buchecha" by Eduardo Albergaria", "The Matriarch" directed by Lula Oliveira, "Rio of Desire" directed by Sergio Machado from Gullane Filmes, "Aut Virginia" by Fabio Meira, "Heavier is the Sky" by Petrus Cariry, "Alien Nights" by Sérgio de Carvalho, "Happy Family" by José Belmonte from Pandora Filmes, "Angela" by Hugo Prata" "The Highjacking of Flight 375", "Gauguin and the Canal" directed by Frank Spano, among others.
LABRFF will also showcase a variety of documentaries including "Lupicínio Rodrigues, Confessions of a Suferrer" about Brazilian composer Lupicínio Rodrigues who will be honored, "in memoriam", during the Opening Night of LABRFF. In 2019, the family, Lupicínio Rodrigues, decided to research their family tree. Featuring previously unseen images, rare interviews, and moving interpretations sung by João Gilberto and Caetano Veloso, the documentary takes a deep dive into Brazilian music as seen through the life of one of the country's most enigmatic artists. An artist defending a bohemian lifestyle as a basis for artistic creativity, facing the challenges of a changing music industry and a military dictatorship, and "A Symphony For A Common Man" about the Brazilian ambassador José Bustani, the first director of the Organization for the Prohibition of Chemical Weapons, who tried to avoid the destruction of Iraq but was forced out under pressure from the USA. Today, similar situations are repeating themselves in multilateral organizations.
These films will be celebrating their U.S. premieres and the full lineup is available at labrff.com/film-guide. LABRFF awards will be held at the Culver Theater on October 26th at 9 pm after the premiere of "My Name is Gal".
LABRFF INDUSTRY fosters connections among filmmakers, creators, artists, executives, and other industry experts throughout the festival. Each LABRFF session is accompanied by a Q&A, providing the audience with an opportunity to delve deeper into each film.
LABRFF INCLUSION PROGRAM

The program's central aim revolved around forging a more inclusive and just landscape for independent filmmakers within the industry. Our Festival continues to advocate for marginalized communities.
SPONSORS & PARTNERS

LABRFF 2023 Sponsors and Partners include City of Culver City, AG Immigration JAMM Cigar, the Consulate of Brazil in Los Angeles, The Los Angeles Film School, Canal Brasil, Mistika, Naymovie, O2Play, Copa Airlines, The Culver Theater, Festival de Vassouras, Ubatuba Açai, Darcio Hair Studio, Supermercado Brasil, Pimenta Catering, T. PR, Fusco Comunicação, Soul Brasil Magazine and QCE Podcast.
LABRFF is partnering with the Culver City School District to offer students the opportunity to engage in the festival and gain a deeper understanding of Brazilian Culture.
FULL LINEUP

Films are distributed in 4 different categories that can be accessed at labrff.com/film-guide.

—
Thais Eliasen
t. PR
[email protected]
Visit us on social media:
Facebook
Twitter
Instagram


Originally published at https://www.einpresswire.com/article/654590893/los-angeles-brazilian-film-festival-labrff-announces-2023-lineup-with-more-than-40-films