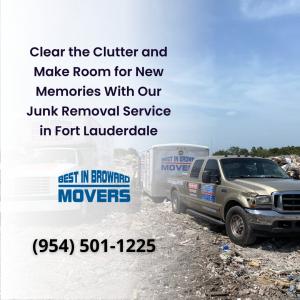 Discover professional junk removal services throughout Broward County provided by Best in Broward Movers, your trusted moving experts.

BROWARD COUNTY, FLORIDA, USA, July 18, 2023/EINPresswire.com/ — Best in Broward Movers, a reputable and customer-focused moving company in Broward County, is pleased to announce the expansion of its services to include top-quality junk removal solutions. With a commitment to delivering efficient and professional services, Best in Broward Movers aims to address the growing demand for comprehensive moving and junk removal services in the Broward County area.
As a trusted moving company known for its exceptional customer service and reliable transportation solutions, Best in Broward Movers has consistently strived to meet the diverse needs of its clients. Recognizing the challenges faced by individuals and businesses in disposing of unwanted items during the moving process, the company has made the strategic decision to extend its expertise to include top-notch junk removal services.
"We understand the hassles and stress that come with the moving process, especially when it involves getting rid of unwanted items," said CEO of Best in Broward Movers. "By offering professional junk removal services, we aim to simplify the moving experience for our customers, ensuring they can focus on settling into their new homes or offices without the burden of clutter."
Best in Broward Movers' new junk removal services cover a wide range of needs, including residential, commercial, and construction site cleanouts. Whether it's old furniture, appliances, electronic waste, or construction debris, the company's highly skilled and trained team is equipped to handle it all. With a commitment to environmental sustainability, Best in Broward Movers prioritizes responsible disposal methods, ensuring that recyclable materials are processed appropriately and that the remaining waste is disposed of in accordance with local regulations.
What sets Best in Broward Movers apart from other junk removal services in the area is their dedication to providing a seamless and stress-free experience for their customers. The team of experts ensures prompt arrival at the scheduled time, efficient removal of unwanted items, and thorough clean-up of the area, leaving it spotless and clutter-free. Moreover, the company's competitive pricing and transparent policies ensure that clients receive exceptional value for their money.
Best in Broward Movers understands that each client's needs are unique. Therefore, they offer customizable junk removal solutions tailored to the specific requirements of their customers. Whether it's a single item or a whole house cleanout, the company's team will work closely with clients to develop a personalized plan that fits their budget and timeline. Additionally, their commitment to superior customer service means that clients can expect clear communication, prompt responses, and courteous interactions throughout the entire process.
As the demand for comprehensive moving and junk removal services continues to rise in Broward County, Best in Broward Movers stands at the forefront, delivering excellence in every aspect of their operations. With extensive experience in the industry and a track record of customer satisfaction, the company has positioned itself as the go-to provider for professional junk removal services throughout the region. For more information about Best in Broward Movers, visit their website.
Best In Broward Movers
7546 W McNab Rd B18, North Lauderdale, FL 33068, United States
(954) 501-1225
https://www.bestinbrowardmovers.com/
Best In Broward Movers
Best In Broward Movers
+1 (954) 501-1225
[email protected]
Visit us on social media:
Facebook
Best in Broward Movers-Junk Removal Services Available Throughout Broward County
Originally published at https://www.einpresswire.com/article/644905392/junk-removal-services-available-throughout-broward-county