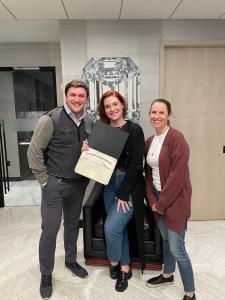 NEW YORK, NEW YORK, UNITED STATES, October 20, 2023 /EINPresswire.com/ — Julius Klein Diamonds, a prominent figure in the diamond and jewelry industry, proudly celebrates the resounding success of its Summer Internship Program. Launched in collaboration with the Gemological Institute of America (GIA) Career Fair earlier this year this transformative program has played a pivotal role in shaping the careers of emerging professionals within the industry. This program stands as a testament to JKD's dedication to developing talent and cultivating the next generation of leaders in the diamond and jewelry sector.
Cassie Kanelos, one of the program's interns, shared her thoughts on the profound impact of the internship, stating, "The day-to-day experience of assessing diamonds I knew were once in a lifetime was beyond special and I would definitely recommend this internship to anyone who is either new to the Jewelry Industry or new to diamonds and is looking to gain more knowledge." Her experience, like that of others, underscores the significance of this collaboration between GIA and Julius Klein.
"Internship programs, such as the one offered by Julius Klein Diamonds, provide an excellent way for recent GIA graduates to gain experience, confidence, and connections. Working alongside industry experts, graduates apply their theoretical knowledge in real-life situations. Additionally, this offers them a chance to receive constructive feedback and guidance from experienced professionals, which can be a significant boost towards building a successful career," said Peter J. Harts, Sr. Manager of Career Services at GIA, emphasizing the importance of such internship programs.
Mark Klein, Vice President of Julius Klein, highlighted the company's unwavering commitment to preserving and enhancing the historic Jewelry District on 47th Street, saying, "GIA is planting the seeds of Industry education and we are doing our part to nurture and help develop those for the betterment of our Industry and its future."
For more information about Julius Klein and its internship programs, please visit Julius Klein's website.
Media Relations
Julius Klein Diamonds
+1 212-488-6800
email us here
Visit us on social media:
Facebook
Originally published at https://www.einpresswire.com/article/663184259/fostering-the-next-generation-of-diamantaires-julius-klein-s-commitment-to-the-diamond-jewelry-industry