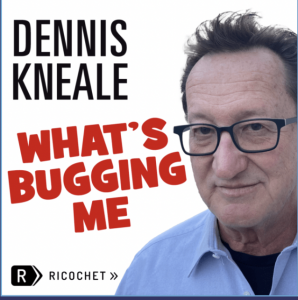 'What's Bugging Me' Host Dennis Kneale Seeks "Light, Not Heat"
NEW YORK, NEW YORK, UNITED STATES, October 31, 2023 /EINPresswire.com/ — The podcast "What's Bugging Me," hosted by longtime journalist and former Fox anchor Dennis Kneale on the Ricochet platform, has reached a milestone 50th weekly episode. Thousands of listeners tune in for contrarian views and an array of guests in business, politics, the law, tech, and media.
"We want to make people think," Kneale says, "and we want to offer facts and stats to support our views rather than just spout ideology."
A lot of podcasts resort to anger and outrage, and this stirs clicks. Kneale seeks "light rather than heat," he says: robust and fun debate, unusual insights, and personal affairs, such as: how to be happy, and lose weight and keep it off, and reinvent yourself in your career.
"What's Bugging Me," hosted on the Ricochet platform and available on Apple Podcasts and other major platforms, is a reflection of its host and his three-decade career in the media. Kneale joined the Wall Street Journal in New York for 16 years. Then he spent almost a decade at Forbes magazine as managing editor. ("Best job I ever had–wish I'd known it at the time.")
Then came more than six years as a cable anchor, first at CNBC and then at Fox Business.
"What's Bugging Me" is an amalgam of those experiences, Kneale says. For example:
–At Fox Business, he wrote and recited a 60-second rant twice a week. Title: "What's Bugging Me." When Fox "invited" him to leave the network, he took the name with him.
–Each episode of the podcast ends with "Parting Shot," a final five minutes or so of reflection from the host. When Dennis was an anchor at CNBC, he wrote and recited the closing segment of a nighttime weekend show hosted by David Faber. Title: "Parting Shot."
–Guests on WBM often are Kneale's friends, former colleagues, sources, or business associates. They have included a former Undersecretary of State in the Trump administration; an ex-advisor to President Clinton; journalists from the Wall Street Journal, the New York Post, Fox Business, ESPN, Wired, and Breitbart; two national radio hosts; three podcasters; and a First Amendment lawyer who worked with Dennis, long ago, on their college paper.
Kneale says: "It has been a lot of fun. And 50 episodes in, we're just getting started."
# # #
Dennis Kneale
Dennis Kneale Media
+1 917-933-5028
email us here
Visit us on social media:
Facebook
Twitter
LinkedIn
Other


Originally published at https://www.einpresswire.com/article/664939325/fifty-episodes-in-a-podcast-find-its-mark