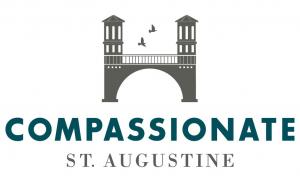 To foster a more united community, Compassionate St. Augustine and the Limelight Theater have produced a stage production that sparks conversation and empathy.
ST. AUGUSTINE, FLORIDA, UNITED STATES, October 31, 2023 /EINPresswire.com/ — Compassionate St. Augustine (CSA), a nonprofit organization committed to cultivating a culture of compassion through advocacy, awareness and action, is delighted to announce the forthcoming Purple Bench production. This compelling event is scheduled for Sunday, November 12th at 7pm, at the renowned Limelight Theater in St. Augustine.
"I'm excited to work with CSA on this production, as it shines a spotlight on the ability to have civil conversations despite a world divided by polarizing opinions," says Limelight Theater's Executive Director, Sherrie Provence. "The Purple Bench represents a space where dialogue is respectful, ideas are celebrated, and bridges are built instead of walls."
Taking the stage will be Greg White, the Unofficial Mayor of West Augustine and Ervin Bullock, CSA Board President Emeritus. They will tackle challenging questions, discuss their personal journeys, and share their vision for a more united community.
"This is not just an event," says CSA Executive Director, Arthur Culbert. "It is a step toward creating a more cohesive, empathetic, and informed community. Compassionate St. Augustine and Limelight Theater share a common goal – to inspire others to engage in more compassionate conversations, and this collaboration is truly special."
The Purple Bench production is open to general admission (no ticket fee), and donations are gratefully accepted. All proceeds will directly support Compassionate St. Augustine.
Purple Bench Production Details:
When: November 12, 2023, at 7pm
Location: Limelight Theater, 11 Old Mission Ave, St. Augustine, 32084
About Compassionate St. Augustine
Compassionate St. Augustine is a 501 (c) (3) non-profit organization in St. Augustine Florida. Our vision is to inspire others to make a positive impact by fostering a culture of compassion. The organization calls on individuals, communities, and organizations to promote compassion in all aspects of life. It seeks to foster a global movement of individuals dedicated to living by the principles of compassion, empathy, and the Golden Rule. For more information about our initiatives, visit https://www.compassionstaugustine.org.
About Limelight Theater
A 501(c)3 organization, the Limelight Theatre is the only year-round community theatre located in St. In addition to offering eight mainstage productions each season, Limelight offers year-round theatre education for ages four to adult. For more information, visit https://www.limelight-theatre.org.
Arthur Culbert
Compassionate St. Augustine
+1 314-249-8500
email us here
Visit us on social media:
Facebook
Originally published at https://www.einpresswire.com/article/665196553/compassionate-st-augustine-and-limelight-theater-partner-on-purple-bench-production-to-build-bridges-thru-conversation