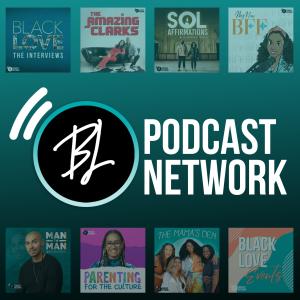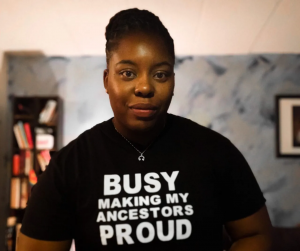 Anna DeShawn, award winning podcaster
Eman Ismail, award winning podcaster (Mistake That Made Me)
Black is America, Black Love Podcast Network, Every Voice with Terrance McKnight, Mistakes That Made Me, Parenting for the Culture, and Queer News all won twice
It was an honor Sunday evening to see so many talented podcasters and podcast professionals be celebrated for their hard work in the podcast industry."
— Akilah Thompkins-Robinson
NEW YORK, NY, UNITED STATES, September 29, 2023 /EINPresswire.com/ — Ahead of International Podcast Day, Black Podcasting Awards (BPAwards) bestowed 35 new awards to 29 different podcasts during a live stream from Podstream Studios on Times Square Sunday September 24. Black Love Inc. catapulted to BPAwards' biggest overall winner to date with a grand total of 9 awards and 21 nominations; its Director of Podcasts Krystal Hill oversees these six BPAwards recognized podcasts, plus another two. She's followed by Anna DeShawn who has five awards and six nominations for Queer News. While A'Shanti Gholar's The Brown Girls Guide to Politics continues her four year stretch of nominations, plus three award wins.
Sunday's Ophelia-delayed ceremony yielded six double award winners: Black is America (Editing; Sound Design), Black Love Podcast Network (Podcast Network; Producer), Every Voice with Terrance McKnight (Arts; Music), Mistakes That Made Me (Business; New), Parenting for the Culture (Education; Podcast of the Year), and Queer News (LGBTQ; Podcaster of the Year).
As podcasting continues to grow, the Awards went beyond U.S. borders, with a handful of winners hailing from Finland, Canada, and the U.K., proving that podcasting is indeed a global phenomenon. The list of awardees also include CNN journalist Audie Cornish, the multi-talented, award-winning Jill Scott, plus hip-hop legend and actor Method Man.
Ceremony guest Akilah Thompkins-Robinson, Girl Get Visible author and tech founder, noted "Black Podcasting Awards plays an important role in giving Black podcasters a space where they can be celebrated and showcased on a level playing field for their hard work and talent without other biases being a factor into how they are evaluated. It was an honor Sunday evening to see so many talented podcasters and podcast professionals be celebrated for their hard work in the podcast industry."
The 2023 award ceremony and celebration was sponsored by Push Black, Podcast Movement, Blubrry, GSD Solutions, Gifted Sounds Network, LWC Studios, Podglomerate, Realm, Shure, Sounds Profitable, Stitcher Studios, Strike Audio, Sampson Therapeutic Services, and Transistor.
In addition to the coveted trophies, winning podcasters also receive fantastic prizes from Afros & Audio, Black Podcasters Association, Descript, Grants For Creators, and Hindenburg.
But the excitement doesn't end here! For those aspiring to join the ranks of podcasting greatness, BPAwards is now hosting an International Podcast Day contest for a chance to win a Shure MV7 microphone and SRH440A headphones, or a one-year Hindenburg Pro license. The contest goes through Tuesday, October 3, 2023, 11:59 pm Hawaii Time. Enter at contest.BlackPodAwards.com.
BPAwards appreciates contributing to its 'First two steps of 100' fundraising campaign at givebutter.com/bpawardstwostep. They are @BlackPodAwards on social media.
CONTACT: Demetrius Bagley, Executive Director & Cofounder, [email protected] or 718-290-7196
High-resolution photos of the 2023 double award winners, all winners' podcast covers, BPAwards logos, and more can be downloaded at kit.blackpodawards.com.
ABOUT BLACK PODCASTING AWARDS

Black Podcasting Awards (BPAwards) celebrates, spotlights, and bolsters Black podcasts for more wins and successes. It achieves this by producing an annual awards program and ceremony, and two newsletters. It is a 501(c)(3) non-profit organization.
FULL WINNERS LIST FOR 2023 BLACK PODCASTING AWARDS (35 categories total)
BEST ARTS PODCAST

Every Voice with Terrance McKnight
BEST BLERD PODCAST (PUBLIC VOTE)

Stitch Please
BEST BUSINESS PODCAST – SPONSORED BY SOUNDS PROFITABLE

Mistakes That Made Me [Finland]
BEST COMEDY PODCAST

Funny My Way
BEST CULTURE PODCAST

Back Issue
BEST EDITING (BLACK PODCASTERS ASSOCIATION VOTE)

Black Is America
BEST EDUCATION PODCAST

Parenting for the Culture
BEST FAMILY AND PARENTING PODCAST

The Black Fatherhood Podcast
BEST FILM AND TELEVISION PODCAST

Chat Sh!T: The Official Rap Sh!t Podcast
BEST FOOD & DRINK PODCAST

Chefish
BEST HEALTH AND WELLNESS PODCAST

Charm Words: Daily Affirmations for Kids
BEST HISTORY PODCAST

You Didn't See Nothin
BEST HOSTING DUO (PUBLIC VOTE)

Sis, Please!
BEST HOSTING TEAM (PUBLIC VOTE)

Jill Scott Presents: J.ill the Podcast
BEST INTERNATIONAL PODCAST

UK Black Pride Time Capsule Podcast [U.K.]
BEST LGBTQ PODCAST

Queer News
BEST LIMITED SERIES PODCAST

Love, Janessa [Canada]
BEST LITERARY PODCAST

Read Write and Create
BEST MUSIC PODCAST

Every Voice with Terrance McKnight
BEST NEW PODCAST (BLACK PODCASTERS ASSOCIATION VOTE)

Mistakes That Made Me [Finland]
BEST NEWS & POLITICS PODCAST

The Assignment with Audie Cornish
BEST PODCAST NETWORK (PUBLIC VOTE) – SPONSORED BY PODCAST MOVEMENT

Black Love Podcast Network
BEST PRODUCER (BLACK PODCASTERS ASSOCIATION VOTE)

Black Love Podcast Network
BEST RELATIONSHIP PODCAST

Black Love: The Interviews
BEST RELIGION AND SPIRITUALITY PODCAST

Sanctified
BEST SCIENCE AND TECHNOLOGY PODCAST

Glowing in Tech [U.K.]
BEST SCRIPTED FICTION PODCAST – SPONSORED BY REALM

Witchever Path
BEST SEX PODCAST

The Amazing Clarks
BEST SOLO HOST (PUBLIC VOTE)

The Wire at 20
BEST SOUND DESIGN (BLACK PODCASTERS ASSOCIATION VOTE)

Black Is America
BEST SPORTS PODCAST (PUBLIC VOTE)

My Hockey Hero [Canada]
BEST TRAVEL PODCAST

About the Journey
BEST TRUE CRIME PODCAST

FruitLoops: Serial Killers of Color
PODCAST OF THE YEAR (PUBLIC VOTE) – SPONSORED BY PODCAST MOVEMENT

Parenting for the Culture
PODCASTER OF THE YEAR (BLACK PODCASTERS ASSOCIATION VOTE) – SPONSORED BY BLUBRRY

Queer News
Demetrius Bagley
Black Pod Awards
email us here
Visit us on social media:
Instagram
YouTube
Twitter
LinkedIn
TikTok
Facebook


Originally published at https://www.einpresswire.com/article/658666477/black-love-inc-takes-times-square-with-six-podcast-award-wins