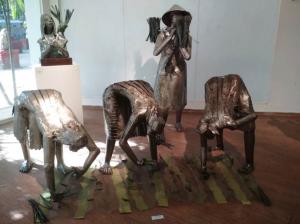 Experience Santiniketan through Kiran Dixit Thacker's Masterpieces, Where Art is Meant to Inspire, Not Acquire.
MUMBAI, MAHARASHTRA, INDIA, October 10, 2023 /EINPresswire.com/ — Get ready to immerse in a realm of artistic marvels and profound perceptions as an exceptional art exhibition is unveiled. This extraordinary showcase boasts an impressive ensemble of life-sized sculptures crafted from mild steel plate, complemented by magnificent bronze pieces, and an array of captivating drawings and watercolors. The artist's vision is a harmonious fusion of Eastern and Western influences, reflecting her analytical grasp of both educational traditions.
While her heart and soul remain deeply rooted in India, her artistic prowess was nurtured in the West, where she resided and worked for the past four decades, primarily in the vibrant city of London. Kiran Dixit Thapar's signature style is predominantly figurative, drawing inspiration from an eclectic tapestry of shapes and forms. Her artistic philosophy revolves around capturing the very essence of her subjects, eschewing superfluous embellishments in favor of a profound simplicity of form. Much like the pioneering spirit of Cezanne, she embarks on a journey of artistic exploration, seeking to uncover new pathways in her craft. This exhibition serves as a poignant milestone in her quest, an exploration into whether she is indeed on the right trajectory.
Guided by the wisdom of esteemed Indian artists and enriched by her extensive studies in the heart of London, Kiran Dixit Thapar's remarkable portfolio boasts an impressive track record of approximately 14 solo exhibitions and participation in 10 group shows, both in India and the United Kingdom. Her unswerving commitment to her craft, fueled by the serene ambiance of Santiniketan, continues to be a wellspring of inspiration for her artistic odyssey.
Event: Glimpses of Santiniketan – Art Exhibition

Date: From 10th October – 16th October 2023

Venue: At Jehangir Art Gallery, Mumbai

Time: 11 am to 7 pm

Opening Night at Jehangir: 10th October 2023, Tuesday, 5 pm
Press & Media Contact:
Mitu Basu
Donla
+91 98204 14732
email us here
GLIMPSES OF SANTINIKETAN | Kiran Dixit Thacker | Lalit Kala Akademi Delhi
Originally published at https://www.einpresswire.com/article/660629384/a-priceless-exhibition-that-celebrates-tagore-s-priceless-vision-santiniketan